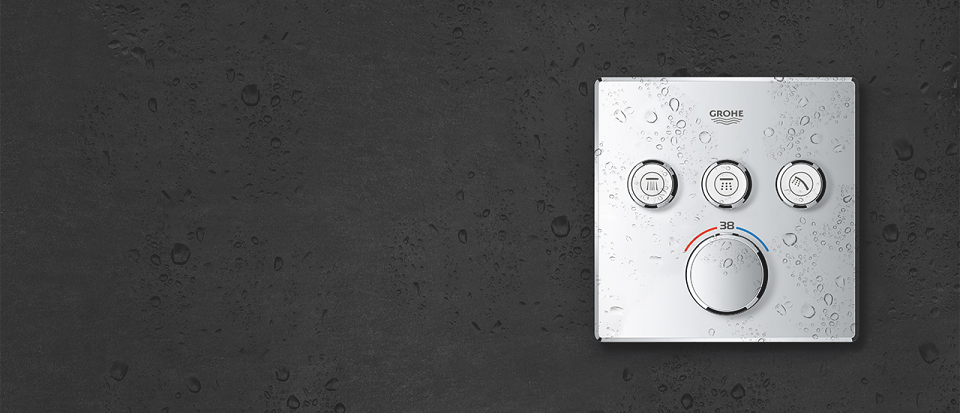 NEW AGE OF SHOWER INNOVATION
THE HIDDEN ADVANTAGES OF CONCEALED TECHNOLOGY
Space is a valuable commodity and often in short supply. It becomes a challenge for planners and installers to use it effectively. No easy task, especially in the shower area where space is often at a premium. With its concealed installation and exceedingly slim design, GROHE SmartControl Concealed offers more space under the shower without compromising on functionality or comfort. It also offers additional benefits of a practical kind: cleaning becomes faster and more convenient, thanks to the flat, streamlined design. Flexibility of design: GROHE SmartControl Concealed also offers a multitude of design variants. A wide selection of suitable trim sets and showers ensures that the style chosen for the bathroom extends seamlessly into the shower area. Concealed technology: more in it for you.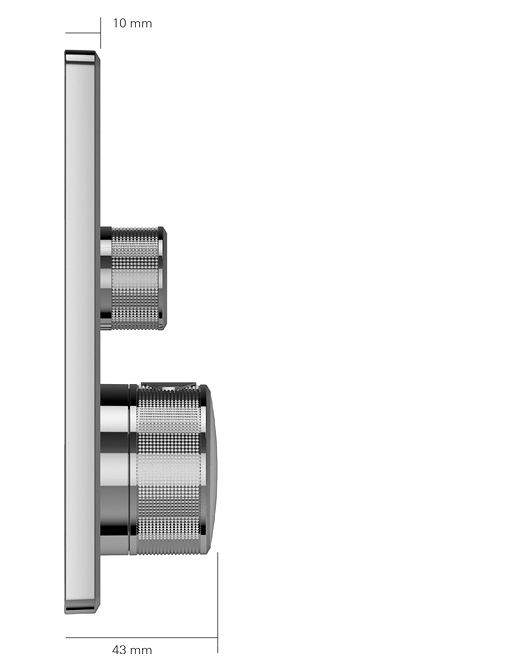 SLIM IS THE NEW BEAUTIFUL
43 MM TOTAL OUTREACH
Whatever the installation depth of the rough-in, the total height of the trim never exceeds 43 mm. The GROHE SmartControl Concealed combines space-saving convenience in the shower and slim good looks.
THINNER WALL PLATES
With a height of only 10 mm, its super slim design makes the GROHE SmartControl Concealed wall plate both elegant and space saving.
HIDDEN SEALING SYSTEM
The GROHE SmartControl Concealed has an integrated sealing system, completely eliminating water behind the wall.
LESS IS MUCH MORE – ONE PLATE DOES IT ALL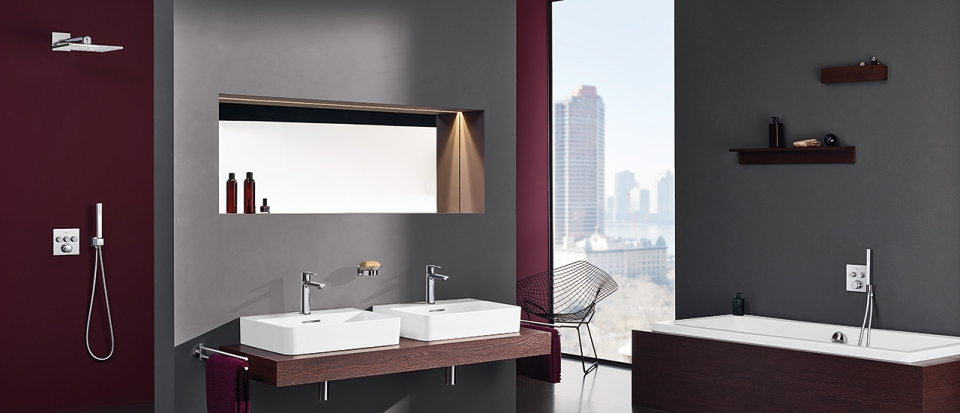 CONTROL UP TO 3 SHOWERS WITH JUST 1 TRIM: Today's trend is for a multiple shower experience that offers more than simple bath/shower combinations. The downside is that for this to work you needed two rough-ins and two trims to control a handshower and a two-spray head shower: up until today. GROHE Rapido SmartBox and GROHE SmartControl Concealed make it simple. With just one rough-in and one trim, it is possible to enjoy two headshower functions simultaneously. Featuring up to three SmartControl valves plus thermostat or mixer in one trim, GROHE SmartControl Concealed means half the work for three times the showering pleasure. What's more, with GROHE SmartControl, it is possible to enjoy two head shower sprays simultaneously. Designed to be the perfect match, the new Rainshower 310 head showers deliver an unmissable shower sensation.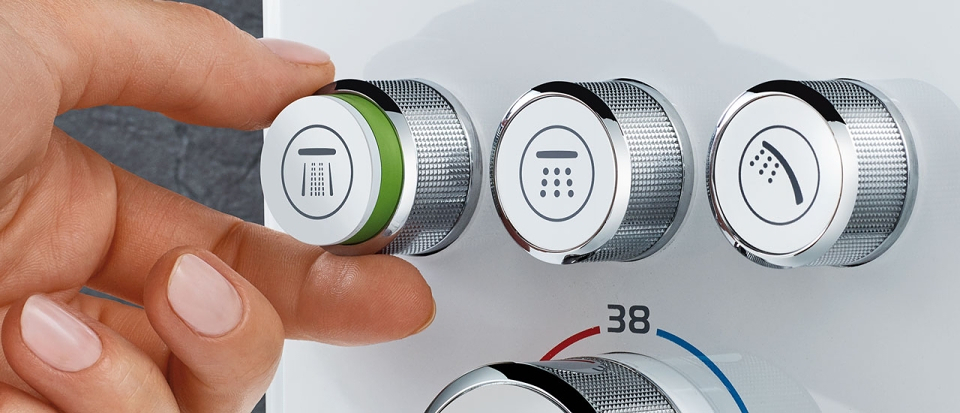 TURN UP THE VOLUME – OR DOWN IF YOU PREFER
GROHE SmartControl offers not just a choice of shower sprays, but also the precise control of water flow. GROHE SmartControl features an integrated volume control for an individual shower experience. A simple push of a button starts or stops the desired shower. And just a turn of the dial allows for precise control of water volume. Thanks to the clear symbols on the buttons, operating them is simple and intuitive.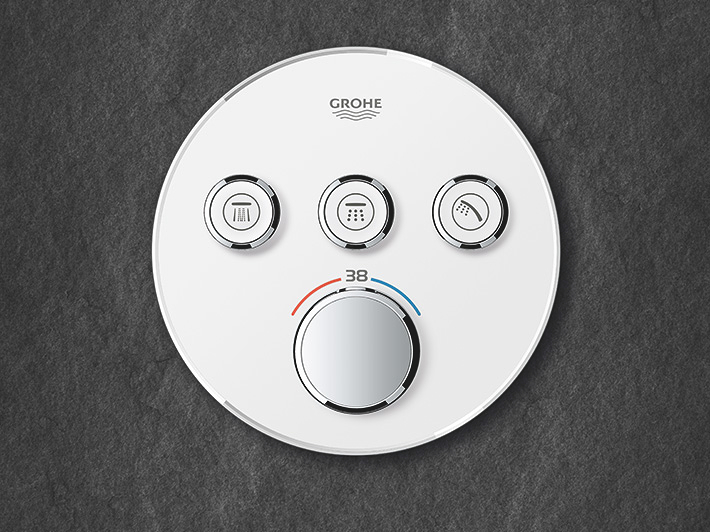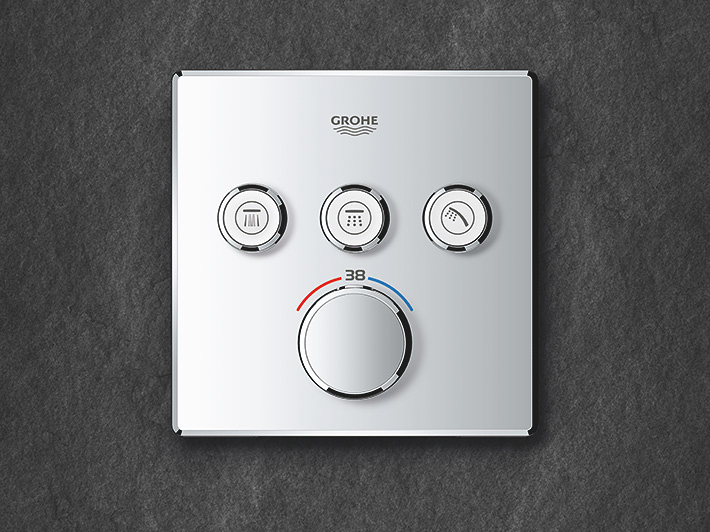 ROUND OR SQUARE?
GROHE SmartControl Concealed comes in two different forms – round and square.
It also comes in two stylish finishes: classic chrome and for a subtly elegant design statement, moon white acrylic glass. Each variant fits perfectly to its matching GROHE design line.
SIMPLY THE IDEAL TEMPERATURE - THERMOSTAT WITH GROHE TURBOSTAT TECHNOLOGY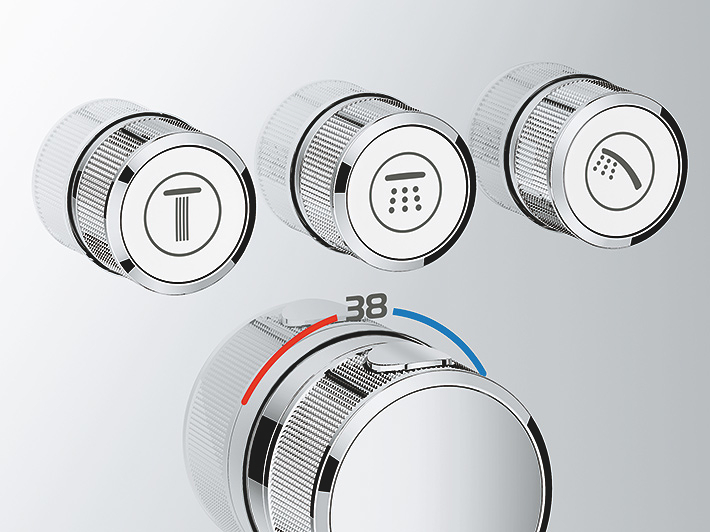 ALWAYS THE RIGHT TEMPERATURE: FOR ULTIMATE CONVENIENCE AND SAFETY
GROHE TurboStat technology lies at the heart of our Grohtherm thermostats. The thermoelement's unrivalled sensitivity means it delivers water at the desired temperature within a fraction of a second – and keeps it constant for the duration of the shower. No more time, water and energy wasted getting the temperature right. And if the cold water supply fails, it reacts instantly: the hot water flow will shut off automatically to avoid the risk of scalding. Grohtherm thermostats come with a 38°C SafeStop button and can be complemented with an additional limiter at 43°C. But more than just controlling the temperature, GROHE TurboStat compensates precisely for fluctuations in pressure for a consistently comfortable shower.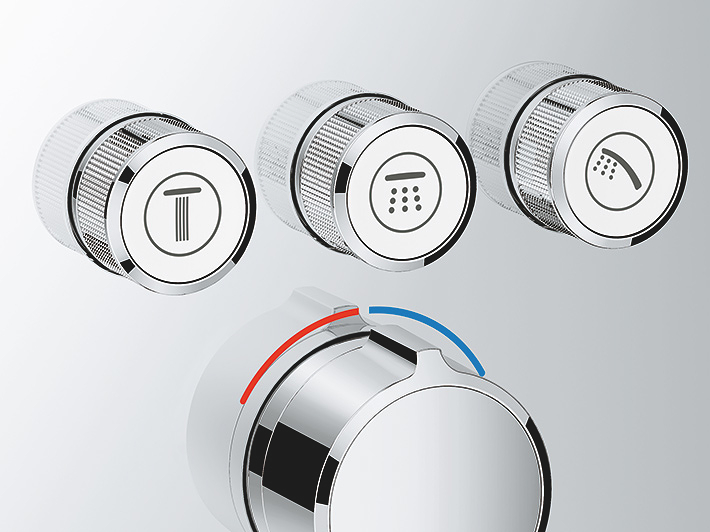 The ideal entry-level models, GROHE SmartControl Concealed mixers combine SmartControl operation with manual mixer technology. Available with one, two or three control buttons, the mixer cartridges have the advantage of integrated dirt strainers for improved durability and easy service.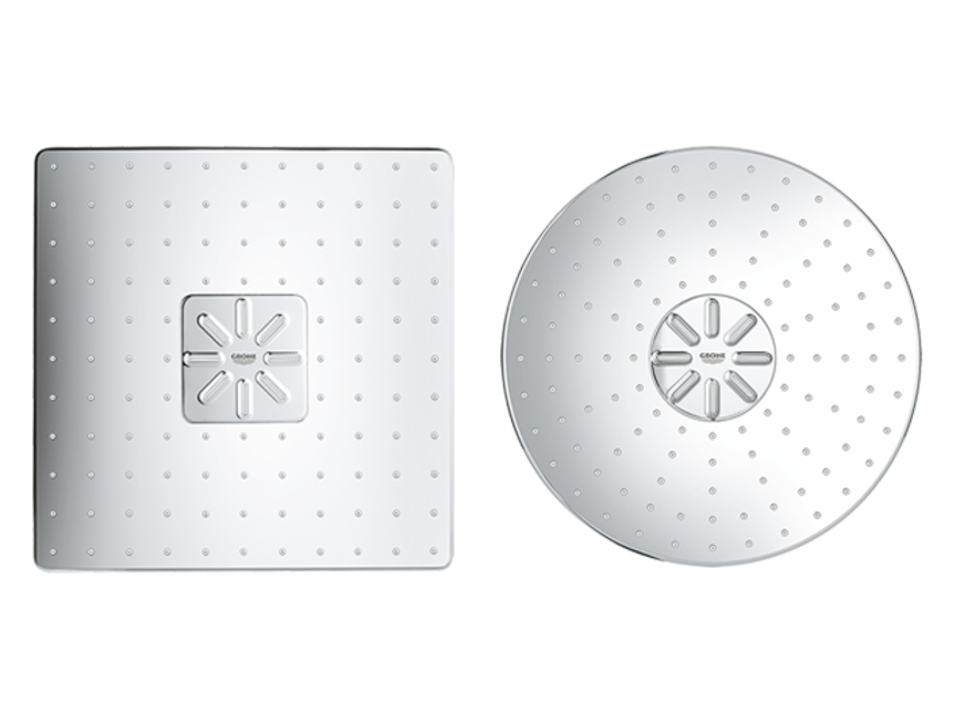 Product range
Find your showroom near you
Find out more about GROHE SmartControl
3 WAYS TO PLAN YOUR <strong>IDEAL SHOWER MOMENT</strong>
So that you can create your perfect shower, GROHE offers you three different ways to go about it - giving you maximum freedom to plan and to enjoy. Whether you are thinking of a simple makeover or want to completely redesign your shower area, GROHE has a range of installation solutions to suit all your needs.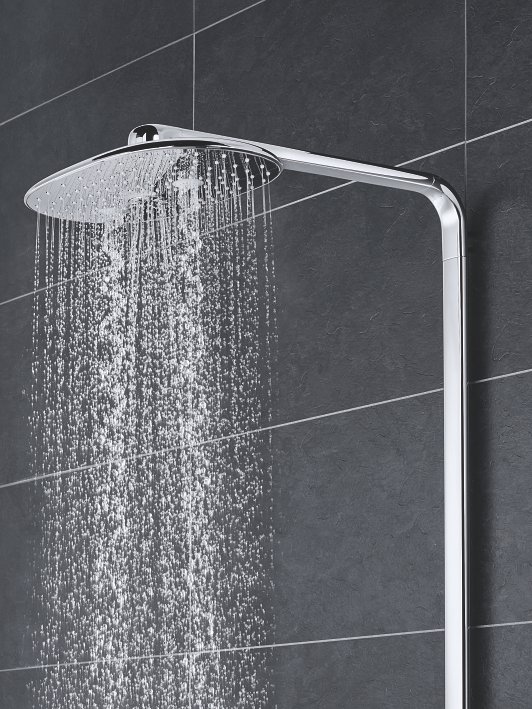 SMARTCONTROL EXPOSED
GROHE SmartControl Exposed, combined with the striking Rainshower 360 head shower and shower rod, can be installed with minimum fuss for maximum effect.
Discover SmartControl Exposed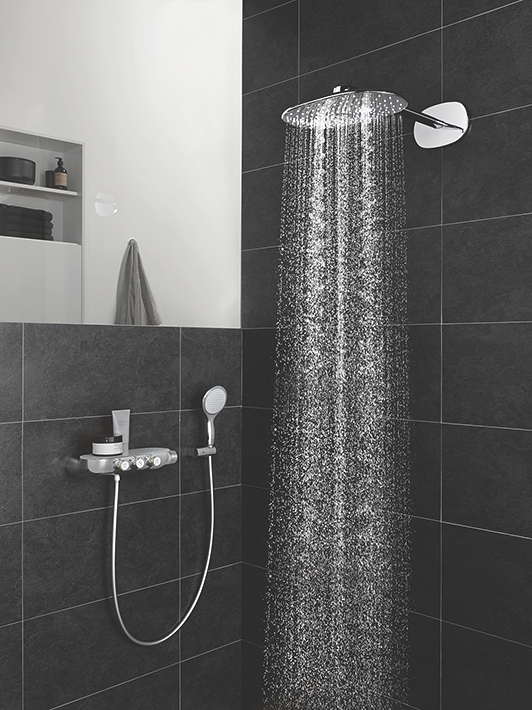 SMARTCONTROL COMBI SHOWER SYSTEM
The "excealed" solution – no visible shower rod, just the impressive Rainshower 360 head shower and GROHE SmartControl.
Discover SmartControl Combi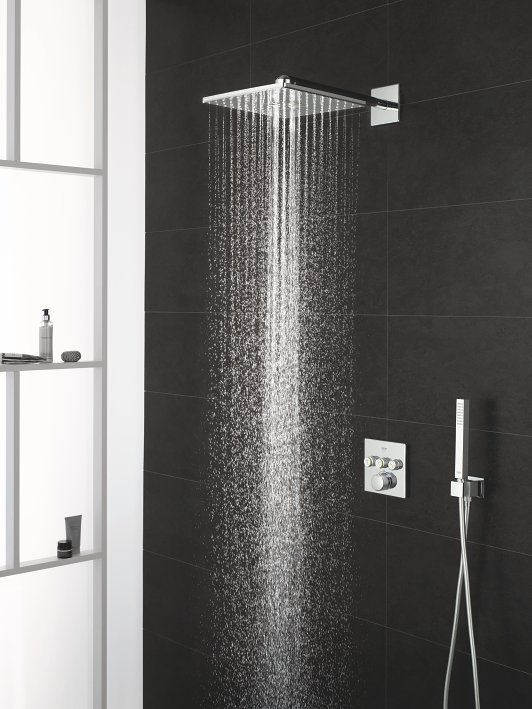 SMARTCONTROL CONCEALED
Reduce to the max. GROHE SmartControl Concealed is installed behind the wall for a clean, minimalistic look and more freedom of space.
Discover SmartControl Concealed